I went to a wedding where the best man's speech at the reception carried on for a good fifteen minutes. I know this timing to be exact because I checked my watch. Several times.
While the groomsman's passion for his friend's marriage was undeniable, the anecdotes, explanations and inside jokes weighed down the sentiment.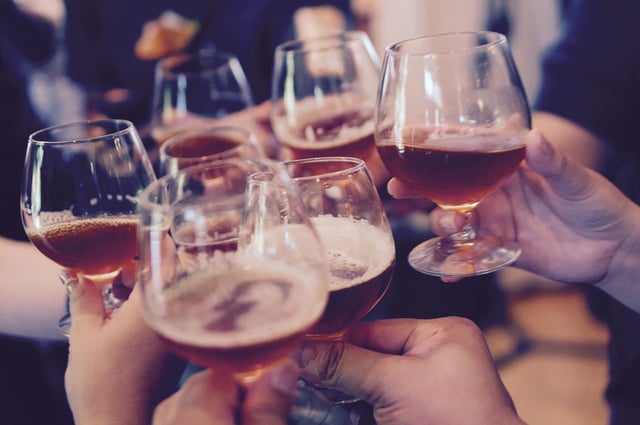 If you've been asked or made a toast at a wedding, you can sympathize with the best man above. When it comes to writing wedding speeches, there are so many emotions that come into play, as well as pressure to entertain, emote and leave a lasting impression.
As you sit down to write down your speech, check out the do's and don'ts below:


DO: Keep it short
Remember, your contribution is a small part of a larger ceremony. Chances are, the attendants will have to hear speeches from several other people before dinner is served. Keep in mind the dances, cake cuttings, and toasts that will follow your wedding speech. Don't hold your audience captive with a song and dance or slideshow.
Before the big day, time your speech. Many consider 5 minutes to be a very long speech. 2-4 minutes can be ideal. If you're in doubt about timing, reach out to the bride/groom.
If under 5 minutes sounds daunting, remember that you have the rest of the night to share anecdotes. You might want to get a lot across during your moment in the spotlight, but there will be plenty of time during the evening to share stories with other guests.


DON'T: Go crazy during cocktail hour
This simple tip should go without saying, but I've witnessed this at weddings. Alcohol might sound like a perfect way to calm your nerves, but at the end of the day, it might dull communication skills. If you're nervous, take a few breaths and take a moment practice in the bathroom. Don't allow yourself to hit up the open bar in excess.


DO: Share a (short) anecdote
Anyone in attendance at the wedding can rattle off cliches about the happy couple. As someone asked to give a speech, you are uniquely qualified to share a story that exemplifies the pair. When considering topics to talk about, try to pinpoint a short story or anecdote that you share with the happy couple.
This is an opportunity to show your personality and share your special connection with the bride and groom.


DON'T: Forget the bride (or groom)
At one wedding I went to, I witnessed a maid of honor speech that went into great detail of the bride's 21st birthday. While funny and telling of the bride and maid of honor, this had little or nothing to do with the couple we gathered to celebrate.
Make your toast to both the bride and groom. Although you are probably closer to one of them, the day is about the couple, not just half of them.


DO: Be yourself
Whether it's a longstanding relationship with the wedding party or your eloquence on stage, you've been asked to make one of the wedding speeches. The bride and groom know your personality, so play to your strengths.
If you're funny, be funny. You don't need to try for tears if that's not your style. Being authentic is your greatest tool for your toast.


DON'T: Feel pressure to memorize
On such an emotional day, don't rely too much on your memory to guide you through your toast. Since the speech will be short and concise (see above), don't worry if you have to bring up a piece of paper (or cell phone, I know, it happens now) for assistance.
If memorizing works for you, by all means, go up there and speak from the heart. But for many of us, when it comes to nerves, a tool like this can help you give your best performance.


Relax, smile and don't forget to raise your glass for a toast! Cheers to a happy couple and your successful wedding speech!
---
Need some help with your wedding speech? Or just looking for good topics to talk about during your next presentation? Boost your communication skills with the help of an Ace-up Communication Coach.