I'm so stressed! We have all felt this way at times and so have our friends, family members, and colleagues.
Some stress is normal and can be a motivating force to achieve your goals and perform at your best. Too much stress, however, can have detrimental effects on both your body and state of mind. Stress can result from daily challenges - such as sitting in traffic, deadlines at work, conflict with loved ones, and paying monthly bills - but it can also come from happy events, such as planning for a wedding, a dinner party, or for travel.
Each of us experiences/reacts to stress differently. The key is to recognize your stress symptoms and learn how to manage them before they affect your well-being and productivity.

Below are some symptoms of stress and how they can affect your body, your thoughts and feelings, and your behavior.
Effects on your body
Insomnia or sleeping or sleeping too much
Persistent fatigue
Tense muscles
Headaches
Upset stomach
Frequent colds or flu
Effects on your mood
Difficulty concentrating and lacking motivation
anxiety
Feeling overwhelmed
Moodiness: irritable, anger
Sadness
Effects on your behavior
Not eating or eating too many "comfort foods"
Exercising less frequently
Angry outbursts
Antisocial behavior
Drug or alcohol abuse
In order to reduce and manage stress, it is helpful to understand the cause of these feelings. There are many proven strategies to reduce and manage stress, and the best ones to choose depends on the type of stress you are experiencing. Some types of stress management require action, while others require a change of perspective.
Action-oriented approaches:

Often you need to take action to change stressful situations. Jill, an advertising executive was having trouble meeting deadlines at work. The more overwhelmed she felt, the less productive she became and the more stress she was feeling. She realized that she was not managing her time well, which is a very common problem for many people. Realizing she had to do something to change her situation, she adopted some time-management strategies that proved to be very helpful:
She prioritized her assignments; the first criteria was the significance of the client, the second was the significance of the project, and the third was the due date.
She created a timeline detailing exactly what she needed to accomplish and by when.
She went to work 30 minutes early and tackled the most difficult and pressing tasks first when her energy was at its peak and there were fewer disturbances in the office.
These strategies gave her a sense of control over her workload and confidence in her ability to be successful. Within 8 months she was receiving more positive feedback from her manager and clients, and able to take on more challenging projects.
Emotion-oriented approaches: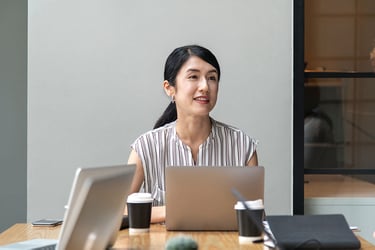 We can often be our own worst enemies. We choose to perceive a situation/event in a negative way. Our inner critic can be a powerful voice in our ear telling us why we can't do something or why we are not good enough. Once we become more aware of these negative thoughts, we can choose to think more positively.
Jim lost his job as a financial advisor and was finding it difficult to find a new one. He was 51 years old and scared that he would never be able to find another senior position in his field due to his age and salary requirements. After 6 months he was so stressed that he had trouble getting out of bed. His inner critic was telling him that he had been laid off because he didn't have the necessary skills to be successful. He knew that he was sabotaging his efforts to find a new position by thinking this way, so we worked on ways to think more positively. He acknowledged that the company culture was not a great fit for him and instead learned to view his situation as an opportunity to find a company better suited to his style.
Every day he adopted the following strategies:
He said 3 three things for which he was grateful; the most important ones being that he had savings and a supportive family.
He learned to meditate and committed to meditate most days for 10 minutes.
He made a list of his strengths and achievements.
He created a new positive dialogue when his inner critic's voice was present.
He practiced affirmations.
These techniques allowed him to feel more positive and optimistic. Within a few months he had the energy to take the action-oriented steps he needed to secure a new position. He received 2 good job offers 6 months later.
These are two examples of how to manage stressful situations and move forward with your goals. It's also important to incorporate stress- reducing techniques into your everyday life that will help you build grit and resilience..
Other successful strategies include:
Learn to forgive yourself and others.
Accept that there are events/circumstances that you can't control.
Practice relaxation techniques like meditation, yoga, tai-chi, or slow breathing.
Exercise regularly.
Eat healthy meals and snacks.
Develop good sleep habits.
Make plans with friends.
Share your feelings with family and close friends.
Carve out time for hobbies and interests.
Smile and laugh – a lot.
Feeling stressed does not have to be a way of life. Manage stress by practicing several of these strategies/techniques every day. You will be happier, healthier, more productive, and better able to manage a large stressful event/situation when it arises.
---

Kim Sonnabend is a certified Ace-up Life, Money, and Career Coach for those seeking financial security and wellbeing during times of transition. She loves helping her clients discover new visions and possibilities for themselves and take action steps to lead more authentic lives. She has a deep understanding of issues around money and enjoys empowering her clients to make better decisions on how to spend their time and money that honors their values and priorities. Her Money Money Money session package is a hit with clients looking to further explore and understand their relationship to money that goes beyond simple money saving tips.