The next ten years will bring huge changes in how we work and who we work with. Automation and big data will become increasing business drivers, and millennials will dominate the workforce. No one can control these changes, but forward-looking companies can prepare for them by developing leaders who have the skills to adapt to new technologies, new markets, and new consumer demands.
Scary headlines about robots taking jobs are a sign that many people fear these coming changes. Companies that allow fear to lead to immobility, denial, or resistance are likely to find themselves disrupted and unprepared to compete within a decade or two. Research on the coming shortage of tech and leadership skills estimate that up to $8.5 trillion will be lost due to a lack of workers with the skills needed to realize revenue growth.
What the headlines miss is that there are vital steps companies can take from now to prepare for and adapt to these changes as they emerge. If you invest strategically in the people in your organization now, you can help them develop the skills your organization will need to remain on the cutting edge. Organizations that prioritize skill development and learning will grow the talent they need to to meet the challenges ahead.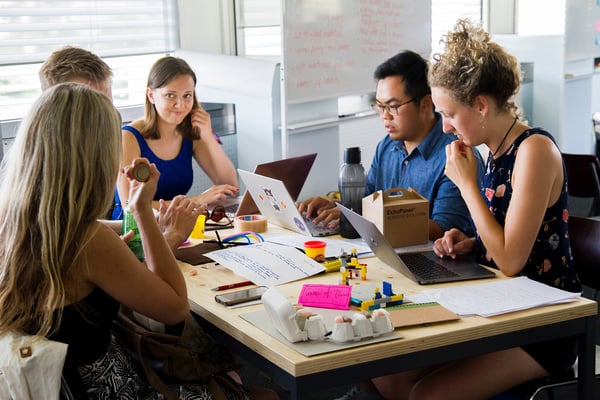 The three skills most needed in the years ahead will be leadership, technological literacy, and an ability to respond and change to fast moving market conditions. These skills take time to build, so now is the time to take some strategic action to develop them.
Here are 5 steps forward-looking companies can take to develop emerging millennial leaders and prepare for emerging technologies:
1. Create a formal mentoring program:
Don't leave mentoring to chance. Create a program to match senior leaders with younger potential leaders. Take advantage of the leadership skills among your senior team. Consider how you can encourage relationships that transfer those skills to younger workers.
2. Create a tech innovation team:
Don't fear it - instead learn how to embrace it. Charge a team of diverse people across your organization with identifying new technologies that align with strategic objectives. Give them access to senior leaders who have the authority to implement or adopt new technology. Minimize risks and implement best practices for project management for any new initiatives.

3. Create a strategic plan for employee development:
Outcomes are better when you plan and align. Considering your strategic goals, identify challenges you will face in the next 5 years, and identify skills needed to meet those challenges. Create a strategic plan that maps pathways to acquiring those skills either through developing existing employees or hiring new employees.
4. Develop your high-potentials:
Not all employees are alike. Identify employees with high potential for leadership and offer them experiences that will help them acquire the technical and people management skills to lead your organization. Watch particularly for employees who demonstrate a passion for learning and have an appetite for smart risks. Research shows that an organization's ability to improve and redeploy employees is critical to future success.
5. Invest in future leaders:
According to Harvard Business Review, three out of four leadership training programs report no significant change, despite of high investment costs. Instead, consider coaching your high potentials. One-on-coaching with a dedicated and trained coach results in average ROI of 5-6 times the cost of your investment.
---
Lisa Foster is an Executive Coach specializing in leadership development, emotional intelligence, and communications. For 15 years, she taught verbal analysis, argumentation, and persuasion at USC and Harvard-Westlake School in Los Angeles. Trained to identify skill gaps and build on people's strengths to create more success, she coaches clients looking for more influence, control, and advancement in their careers within large and small organizations. She also develops plans for individual talent development and corporation talent management using evidence-based tools that have proven to increase success.