For some, public speaking can be an extremely intimidating, nerve-wracking, and anxiety ridden activity. For others, public speaking may come as a natural, comfortable experience. Either way, it's something that almost everyone must tackle at one point or another.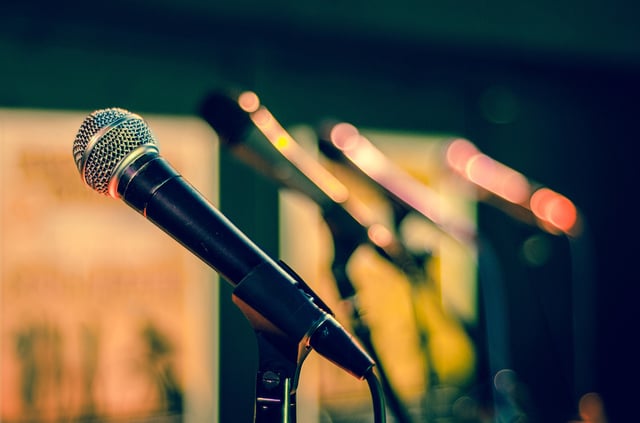 Whether you're delivering inspirational speeches to the country, working up the nerve to give a TED talk, or giving an important presentation at work, public speaking is a skill that can make or break you. You want to ensure that your speeches are memorable for the right reasons, which can be tricky if you don't have much experience. Even those who excel at public speaking do so by continuously brushing up on their communication skills and learning new tactics to better present to and engage with their audience.
Luckily for us, we can learn from the many people who have given great - and not-so-great - presentations, and have generously shared their advice with the world. We've gathered some videos to help you get a better understanding of how you can best improve your public speaking skills.


1. Chris Anderson - "TED's Secret to Great Public Speaking"

TED Curiator Chris Anderson shares the secret ingredient that all the best inspirational speeches have in common. If you only have a limited amount of time, start at the 4:37 mark for clear tips to a good public speech.


2. Amy Wolff - "5 Tips for Being a Better Public Speaker"
Amy Wolff, a Speech Coach for TEDxPortland, gives five tips for public speaking that can be applied to any part of your life


3. Dananjaya Hettiarachchi - "3 Keys to Delivering the Most Effective Speech"
The 2014 Toastmasters International World Champion of Public Speaking, Dananjaya Hettiarachchi, lays out the 3 keys to great speech. [via Business Insider]


4. Carmine Gallo - "
Barack Obama's 3 Best Public Speaking Tips"
Carmine Gallo from Forbes breaks down the three effective public speaking techniques that have enabled President Barack Obama to deliver electrifying,
persuasive speeches.


5.
Richard Greene

- "

The 7 secrets of the greatest speakers in history

"

In this masterful talk, Richard Greene explains how the greatest speakers in history have used seven secrets to create moving and inspirational speeches. An interesting take about not just giving a "speech", but rather creating "conversations" from the heart.


6. Charlie Houpert - "
How To Give a Killer Presentation - With No Notes"
Part of mastering
the art of public speaking
is learning to connect with your audience and deliver your message instead of just reading your notes. Charlie Houpert from
Charisma on Command
gives some great advice on
how to speak confidently
without needing any notes or visual cues.
7. Matt Abrahams - "Think Fast. Talk Smart."
Stanford lecturer and entrepreneur Matt Abrahams is an expert on interpersonal communication and presentation. His talk explains how to speak confidently during both impromptu and public speaking.


8. Joe Kowan - "How I Beat Stage Fright"
If you have serious public speaking anxiety, this is the talk for you. Joe Kowan explains how we was able to overcome his fears and perform on stage.


9. Julian Treasure - "How to Speak so that People Want to Listen"
You can perfect your speech and communication skills, but to really master the art of public speaking, people must want to listen to you. Expert Julian Treasure demonstrates the how-to's of powerful speaking that will make your audience truly listen to you.


10. Miss Teen USA South Carolina - "The Answer Heard Around the World"
So this one is more of a "what not to do" than a guide on public speaking, but it just goes to show that everyone can suffer from public speaking anxiety. I
t's extremely important that you practice your presentation to make sure that that you can convey the ideas that you're trying to get across clearly.
---
Have these videos inspired you to work on your communication skills? Learn how to speak confidently and master the art of public speaking with the help of one of Ace-up's many Communication Coaches. Each coach offers a free consultation so you can find the right person to work with - no strings attached.